(Last Updated On: 2022年3月15日)
Maybe you don't drink vodka, or you don't even drink alcohol, but you must know the brand of vodka, Absolut Vodka, because his advertisements are too creative, and it successfully entered the United States in 1979 and became popular in the United States.We have compiled 10 Things You Should Know About Absolut Vodka, Read Below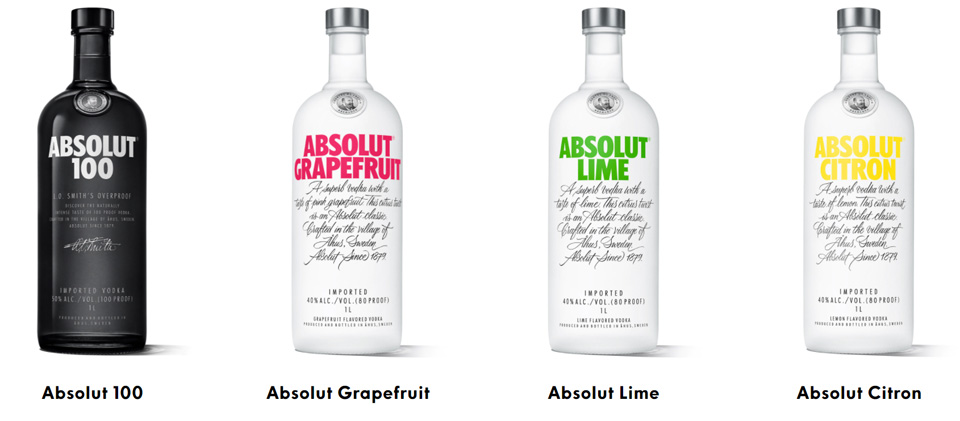 Name Origin
Absolut Vodka name represents meaning,The first is the absolute perfection of the product,The second reflects the origin of its brand.In 1879, Lars Olsson Smith brewed a new vodka using a new process,called "Absolut Rent Branvin",This process is still used to this day,Selected winter wheat and pure well water guarantee the superior quality and unique taste .
Lars Olsson Smith,He is the founder of Absolut Vodka,a swede,He is known as the "King of Vodka".Lars Olsson Smith was born in 1836,Adopted at age 9,He has a very high business talent since he was a child.Already a very successful businessman at the age of 10,By 1850, 14-year-old Olsson Smith had controlled a third of Sweden's vodka market.In 1979 Olsson Smith brewed a brand new vodka called "Absolut Rent Branvin".Using a new process to price,This process is called continuous distillation,Used until now,This is an advanced method of removing impurities from vodka,Not only purified vodka,The taste characteristics of raw material "winter wheat" are also retained.
recycle everything—They don't like to waste a thing
From their raw spirit distillation, They get a by-product called stillage or drank in Swedish. It's rich in protein, So Absolut raised thousands of pigs and cows near the factory to consume distillers grains, a by-product of distillation.
The clear, but very green glass bottle
Absolut's 'bottles are clear. But also, pretty green pretty green. They are big fans of sustainability and constantly strive for improvement. Today, every bottle is made with more than 40% recycled glass. MisaPack is also a loyal supporter of environmentalism. We use recycled broken glass to save more than 40% of energy every year. We use electricity and natural gas as the main energy supply to reduce carbon emissions.More promotion and utilization of glass bottles is our contribution to environmentalism.
Thanks to Andy Warhol for all the ads created for Absolut
Absolut's off-kilter ad campaign started with the iconic haloed "Absolut Perfection," which we worship to this day. But it wasn't until 1986, when platinum-domed pop artist Warhol offered up his "Absolut Warhol" ad, that the strange, artsy, gonzo universe of Absolut advertising was born.Many creative exploits would follow, with Absolut putting its mark on everything from Hollywood starlets to fruit to BDSM.
Absolut is a vodka and a chic work of art, essentially a farm
Production philosophy, All ingredients are sourced from southern Sweden. Water, winter wheat,comes from one water source, one village and one community. This is the reason why no matter where you are in the world Absolut will always have the same high quality.
Absolut is ancient Pristine Water
They always tap our water locally from Their own wells that are more than 140 meters deep. That means the vodka that gets you drunk has been filtered through Swedish bedrock and given a natural taste you can't create in a lab. After all, 60% of vodka is pure water, and natural filters result in a purer product.
Winter Wheat
Absolut sources its 100 percent winter wheat from 338 local farms,The hardy winter wheat is grown in abundance in the area around Aarhus in southern Sweden, where the fertile land is ideal for growing the wheat, which yields about twice the global average for wheat production.
Absolut Vodka Make history
Absolut entered the U.S. market in 1979 and has now become the second largest premium vodka brand in the world, creating brilliant sales all over the world. Today, more than 500,000 bottles are produced in Ahus every day, leaving the factory and shipping all over the world.
Diverse tastes
Each bottle of Absolut is produced in Ahus, a small town in southern Sweden, where Absolut's core values are pure, simple and perfect. Today, the Absolut family has a range of products of the same quality, including Absolut Chili Flavor, Absolut PEPPAR,Absolut Lemon Flavor,Absolut CITRON,Absolut blackcurrant flavor, Absolut KURANT,Absolut Citrus Flavor, Absolut MANDRIN,Absolut Vanilla Flavor,Absolut RASPBERR Absolut Cranberry Flavor,Absolut red grapefruit flavor, absolut ruby red.
Epilogue
Regarding the packaging of vodka, Misapack has extraordinary creativity in the packaging of vodka, and can design unique wine packaging for everyone, creating more possibilities,You can also contact us,For more information on bottle packaging,Learn about our universal vodka bottles,More designs for you to choose,Maybe give you more inspiration