(Last Updated On: 2022年3月15日)
You might have trouble finding your favorite adult beverage or Liquor for your holiday party this year.Why is there a liquor shortage?
What's Happening to America's Alcohol Industry After COVID-19?
1.Poeple feel Stress, Boredom, Isolation .It Add Up To Sharp Rise In Drinking.
Since the epidemic began in 2019, people cannot go out for travel ,vacation and stay at home for a long time.People drinking more to release pressure.
According to a report in the journal JAMA Network Open, American adults say they're drinking 14% more often during the coronavirus pandemic. The increase in frequency of drinking for women was more pronounced, up 17% compared .
2.As people began going to bars less, retail alcohol sales went up.
On Jan 14, 2022,Jan Conwa,from Statista specializing in market and consumer data, published a statistic,which shows a trend in beer, wine, and liquor store monthly retail sales in the United States from January 2017 to May 2021.
From the statistics, we can see that ,in Jan 2021, U.S. beer, wine, and liquor store sales were about 7.36 billion U.S. dollars, spirits reached their peak in sales.Since the outbreak of the epidemic at the end of 2019, sales have not declined but have grown.Sales in January 2021 rose 16% compared to 2020 and 20% compared to 2019.
3.The epidemic has led to a break in the supply chain,make liquor shortage.
The pandemic disrupted the global supp[ly chain needed to make and bottle liquor.
Many stores have experienced shortages of alcohol products.
Local TV station WTVD in US reported Liquor store customers in North Carolina are encountering "out of stock" signs instead of their favorite spirits.
The producers didn't anticipate demand years in advance.
Many liquors simply take a long time to make liquors. Producers have to grow or buy the ingredients, distill the spirit, then let it age.
The cost to import liquor from overseas has shot up because of price increases in international shipping.
Average port-to-port spot rates from Shanghai to Los Angeles soared from around $1,500 per 40-foot container in early 2020, and from a five-year average of $2,177, to $4,000 in September 2020, to $8,000 in June, and to $9,631 in the week ended July 8, according to Drewry Supply Chain Advisors. This would be an increase of over 500% from early 2020 (green line in the chart below).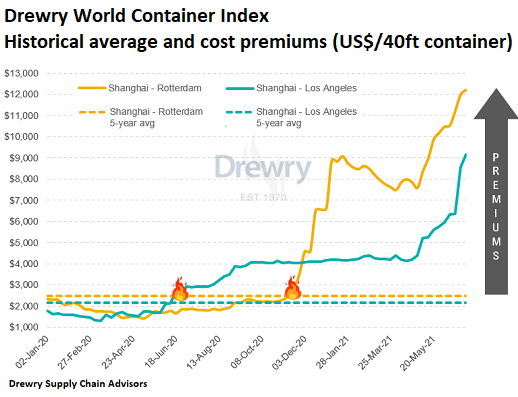 Shortage of truck drivers
Actually delivering booze to bars, restaurants and other vendors has been hampered by a shortage of truck drivers.
How to increase Alcohol Sales During COVID-19 Pandemichad?